Amplify Your Church's Reputation with Managed Reviews & Testimonials
Let us help you showcase the positive experiences of your community
Your church's story is best told through the experiences of its members. Harness the power of these narratives with our dedicated Reviews and Testimonials Management Service. We help shine a light on the heartwarming stories within your community to bring in new guests and to deepen the connection among your members. Together, let's inspire and grow your congregation!
Why Reviews & Testimonials Matter
In today's digital era, the journey to faith often begins online. For growing Evangelical Churches, reviews and testimonials are not just simple feedback, they are powerful tools of witness. They provide an authentic glimpse into your vibrant community, revealing the transforming power of faith of God that is found within your Church.
When potential members research online, they are likely to be moved by the real-life experiences of your congregation. These stories can stir hearts and spirits, often playing a pivotal role in drawing newcomers through your doors. After all, nothing speaks louder than the testimonies of those whose lives have been touched and transformed by your ministry.
Moreover, shared positive experiences can also invigorate your current community, affirming their commitment and encouraging a deeper sense of belonging. They can serve to remind your congregation of the impact and value of their Spiritual home.
Increasing the volume of reviews and testimonials is therefore not just about increasing numbers – it's about extending your Church's mission, inspiring Spiritual growth, and shining the light of Christ in a compelling, relatable way.
How We Can Help
At the heart of our service is a commitment to amplifying your Church's unique story and mission through the voices of your congregation. Here's how we can assist:
👍 Boosting Reputation: We collect and curate authentic testimonials from your members, creating a rich tapestry of experiences that testify to the transformative power of God working through your Church community. These testimonials, shared strategically, enhance your church's online reputation and demonstrate the strength of your Spiritual community.
🧲 Bringing in More Guests: In an era where the Internet is often the first port of call for those seeking Spiritual guidance, positive online reviews are a powerful attractor. They provide tangible proof of the impact your Church has on individuals and families, encouraging newcomers to take their first step towards joining your community.
👋 Fostering Community Engagement: Beyond bringing in more guests, reviews and testimonials can also deepen the sense of belonging among current members. Seeing their experiences valued and shared can instill a deeper sense of community, reinforcing the bonds of faith and fellowship within your congregation.
Our Process
Our approach to managing and promoting your church's reviews and testimonials is a meticulous, four-step process designed to showcase the transformative experiences within your congregation.
1. Gather: We start by collecting reviews and testimonials from your members. This can be through feedback forms, one-on-one interviews, or digital platforms. We make sure every voice is heard and every story is captured.
2. Review: Every piece of feedback is reviewed by us. We attempt to ensure that all of the shared experiences are genuine, respectful, and uphold the values of your Church.
3. Curate: We then curate these testimonials, highlighting the most impactful and inspiring stories. Our goal is to create a compelling narrative that truly embodies the spirit of your Church.
4. Promote: These curated testimonials are then shared across your platforms – your website, social media, newsletters, and more. We strategically promote these stories to enhance your Church's reputation, bring in more guests, and foster a deeper sense of community engagement.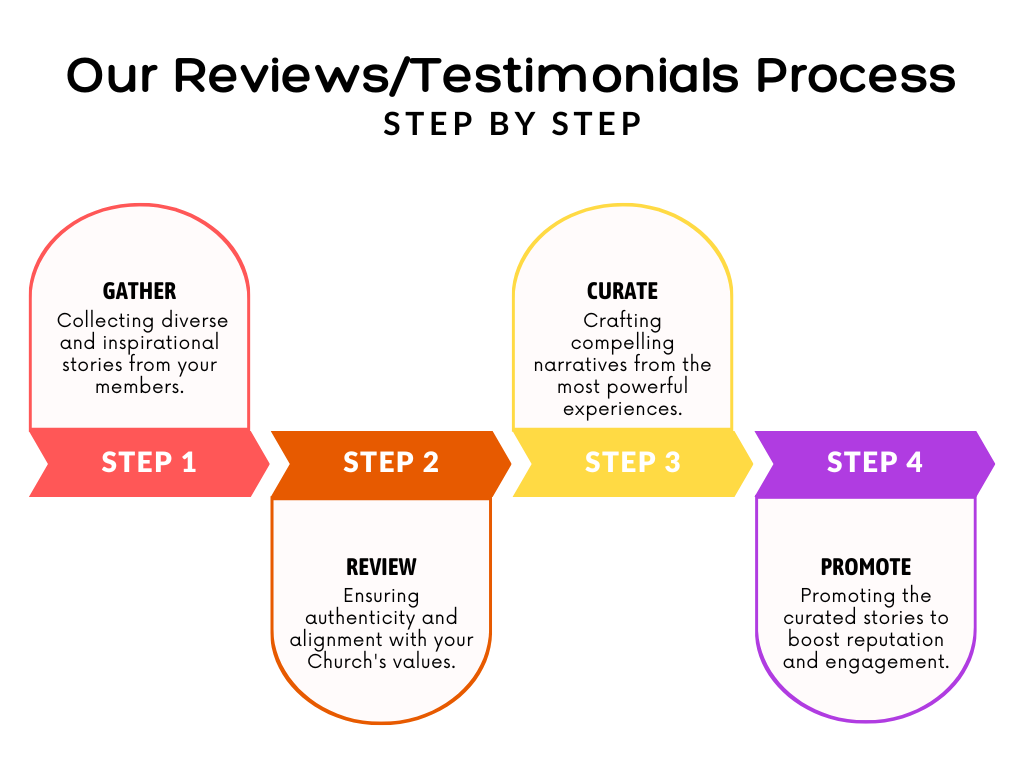 What type of reviews and testimonials do you collect?
We collect all types of reviews and testimonials that reflect the unique experiences of your Church members. This can range from transformation stories to testimonials about community events, services, or pastoral support.
How do you gather these reviews and testimonials?
We utilize a variety of methods, from feedback forms and one-on-one interviews to digital platforms. Our goal is to make it easy for your members to share their experiences.
What platforms will you use to promote the reviews and testimonials?
We promote the curated testimonials across various platforms, including your Church's website, social media pages, help you promote it in your newsletters, and any other communication channels.
What is the benefit of this service to our Church congregation?
Our service amplifies the voice of your congregation, enhancing your church's online reputation. It helps bring in more guests, fosters a deeper sense of community engagement, and showcases the transformative power of faith within your Church.
Ready to Amplify Your Church's Impact?
Currently exclusive to our Disciple Generation package, this offering is a powerful tool designed to boost your reputation, foster community engagement, and bring in new members.
The path to transforming the impact of your Church starts with a single click. Learn more about the Disciple Generation package and let's begin this journey together. Your congregation has remarkable stories to tell. Let us help you share them with your community and the world.